The International Alliance of ALS/MND Associations presents four awards to recognize excellence in the ALS/MND community. The awards are described below, along with a link to submit a nomination and a list of previous winners.
Student Innovation Award
The Alliance created the new Student Innovation Award, which will be presented for the first time at the 2023 Alliance Conference. This award encourages ALS/MND exposure and awareness in the global student community, provides a platform for students to showcase their innovative ideas to improve the quality of life of people living with ALS/MND, and drives innovation within the ALS/MND space.
Candidates for the Student Innovation Award must:
have initiated and implemented work that will have an international impact on people living with ALS/MND;
explored new and innovative ideas for improving quality of life of PALS that shows an understanding of PALS needs;
have potential to be an achievable and accessible solution; and
be a full-time student.
More about the Student Innovation Award
The Forbes Norris Award
The Forbes Norris Award, first presented in 1994, honours the memory of Dr. Forbes "Ted" Norris (1928-1993), a neurologist who dedicated his career to helping people with ALS/MND. The purpose of this prestigious award is to encourage a combination of two major qualities: management of and advances in understanding ALS/MND, to the benefit of people living with the disease. The criteria for the Forbes Norris award are that the nominee must be:
a major participant in the delivery of outstanding ALS/MND patient care;
a significant contributor to the medical literature on ALS/MND clinical management or basic science; and
a member of team/s undertaking ongoing research into ALS/MND care, management and/or basic science.
Nominations for the Forbes Norris Award are considered annually; the awards are presented each year during the opening ceremony of the International Symposium on ALS/MND.  If there are no qualified candidates nominated in a particular year, the award will not be granted.
More about the Forbes Norris Award
2022 Forbes Norris Award Recipient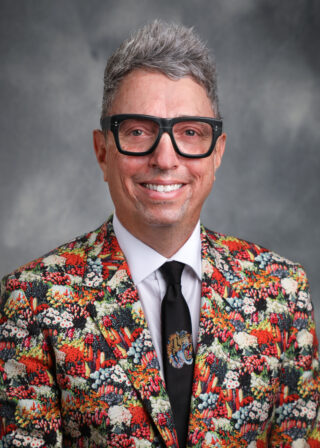 The International Alliance of ALS/MND Associations is proud to recognize American Professor of Neurology Dr. Richard Bedlack with the 2022 Forbes Norris Award. This distinguished award honours his decades-long contribution to the management of and advances in understanding ALS/MND.
Dr. Bedlack operates from the belief that everyone living with ALS/MND should receive the highest quality of care possible. It is with this philosophy in mind that he created and directs the Duke ALS Clinic in the US. By adhering to best practices, he offers families the resources of a large interdisciplinary care team, presenting all available treatment options, so they are able to approach the disease in the way that is best for them.
Leading and participating in research initiatives that create a better understanding of and better treatments for ALS/MND is integral to Dr. Bedlack's approach to patient care. Through his involvement in multi-centre trials, investigator-initiated studies and research, he has established himself as a leader in the field. From innovative study models to the training of Research Ambassadors through the NEALS Clinical Research Learning Institute, Dr. Bedlack has been on the forefront of advocacy and education initiatives to expand research opportunities and increase trial participation, with the goal of creating a world free of ALS/MND.
One of his most notable public contributions is the creation of the ALSUntangled™ website. A tremendous resource to the ALS/MND community, it provides scientific reviews of alternative and off label treatments to help people make informed decisions about their care.
"What began with seeing his first person with ALS/MND and a desire to 'do better' has led to a 20-year career of striving to continuously offer better care and treatments for those living with ALS/MND," says his colleague Stacey Asnani. "During this time, Dr. Bedlack has built a world-class ALS clinic, made significant contributions to clinical research, and engaged in advocacy that has advanced initiatives leading to positive changes in care provision, education, benefits and research."
Dr. Bedlack truly embodies the term "patient care" through the empathy, compassion and commitment he displays with every patient he sees. His unwavering dedication to the ALS/MND cause is apparent in every facet of his work, making him an inspiration to everyone affected by this disease across the globe.
Previous Winners
2021 Dr. Adriano Chiò
2020 Professor Ammar Al Chalabi
2018 Dr. Angela Genge
2017 Dr. Merit Cudkowicz
2016 Dr. Mamede de Carvalho
2015 Dr. Terry Heiman-Patterson
2014 Dr. Matthew Kiernan
2013 Dr. Leonard van den Berg
2012 Dr. Benjamin Brooks
2011 Professor Orla Hardiman
2010 Dr. Edward Kasarskis
2009 Professor Christopher Shaw
2008 Dr. Michael Strong
2007 Dame Professor Pamela Shaw
2006 Dr. Walter G. Bradley
2005 Dr. Stanley Appel
2004 Dr. Robert G. Miller
2003 Dr. Robert H. Brown
2002 Professor Vianney DeJong
2001 Dr. Lewis P. (Bud) Rowland
2000 Professor Michael Swash
1999 Dr. Andrew Eisen
1998 Dr. Hiroshi Mitsumoto
1997 Professor Nigel Leigh
1996 Dr. Donald Mulder
1995 Dr. Teepu Siddique
1994 Professor Vincent Meininger
The Humanitarian Award
The Humanitarian Award was inaugurated in 2000 by the International Alliance of ALS/MND Associations to recognize a non-scientific contribution to the fight against ALS/MND. The Humanitarian Award is intended to recognize and encourage individuals and/or groups whose work makes, or has made, a contribution of international significance for people affected by ALS/MND.
More about the Humanitarian Award
2022 Humanitarian Award Recipient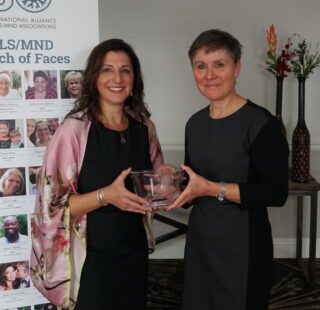 Sally Light, Chief Executive of the MND Association in England, Wales and Northern Ireland, has been awarded the 2022 Humanitarian Award from the International Alliance of ALS/MND Associations. This prestigious award honours Light's leadership in raising awareness and action around ALS/MND.
When Light joined the MND Association in 2012, multidisciplinary care of people living with ALS/MND was inconsistent in many parts of the UK. Thanks to her extensive experience in neurological care management, she successfully led a campaign to establish a national clinical guideline for ALS/MND, which has ultimately improved the quality and consistency of care within the UK and influenced service provision globally. For instance, it led to the expansion of dedicated ALS/MND Care Centres and Networks in the UK, which form the backbone for national and international multicentre clinical research studies and therapeutic trials.
Light understands the need for greater international co-operation in research and care in all areas of work. During her tenure, the MND Association has invested in multinational programs such as the Project MinE genetic consortium and the ALS Reproducible Antibody Platform, and it is the formal patient association partner on the European Commission funded MIROCALS and TUDCA-ALS trials. It is also one of the largest research funders in the world, with over £16 million invested in 80 projects.
"Ms. Light has always put people with ALS/MND and their families at the centre of everything the Association has done and believed in the community that underpins and strengthens our cause," explains Chris James of the MND Association. "She has championed greater empowerment of volunteers, a more participative membership, and continuous development of co-production and co-creation of our work and priorities. Despite the growth in size and complexity, she has never lost sight of whom we exist to support."
"In everything she has done since she joined the Association 10 years ago, Ms. Light has shown total dedication to every aspect of our work in support of people living with and affected by ALS/MND," adds Richard Coleman of the MND Association's Board of Trustees. "Under her leadership, the Association has grown its revenue significantly, strengthened its advocacy on behalf of the ALS/MND community and increased its investment in research, which will enable us to attain our vision of a world free from ALS/MND."
Previous Winners
2021 Dr. David Taylor
2020 Carol Birks
2019 Dario Ryba
2018 Dr. Brian Dickie
2017 Peter Frates, Patrick Quinn and Anthony Senerchia, Jr., the founders of the Ice Bucket Challenge.
2016 James Allen Heywood and Benjamin Heywood
2015 Jesus Mora
2014 Wendy Abrams
2013 Dr. Jeffrey Dietch
2012 Gudjon Sigurdsson
2011 Danny Reviers and Mia Mahy
2010 Jette Moeller
2009 Professor Kathy Mitchell
2008 Rodney Harris
2007 Tricia Holmes
2006 Mrs. Misao Hashimoto
2005 The MND Association of South Africa
2003 Dr. David Oliver
2002 Dee Holden Norris
2001 Yuko Matsuoka
2000 The MND Association of England, Wales and Northern Ireland

Allied Health Professional Award
The Allied Health Professional Award was inaugurated in 2018 by the International Alliance of ALS/MND Associations to recognize an individual committed to providing exceptional care to people with ALS/MND; celebrate the sharing of expertise and exploration of new ideas to improve patient care; and recognize significant contribution to the advancement of ALS/MND clinical management.
More about the Allied Health Professional Award
2022 Allied Professional Award Recipient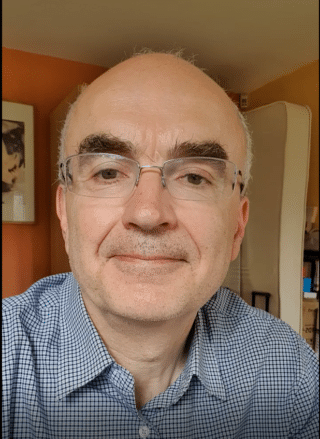 The International Alliance of ALS/MND Associations is pleased to announce Richard Cave as this year's Allied Health Professional Award winner. He is being recognized for his work in the field of voice banking for people living with ALS/MND.
More than 80% of people living with ALS/MND develop difficulties with their speech, losing not only a functional means of communication but also a display of their individual and social identity through their vocal characteristics. Most of these people eventually use an augmentative and alternative communication device; however, the  synthesized voices of these devices are often viewed as impersonal and do not match the age or accent of the individual. Voice banking creates an approximation of the person's own voice that can be used in these devices to help preserve their self-identity and perhaps even their dignity.
Richard Cave is a leader in the field of voice banking both in the UK and globally. In his role as speech language therapist with the MND Association in England, Wales and Northern Ireland, his participation was invaluable to the "I Will Always Be Me" project, where individuals across the world can bank their voice from the comfort of their own home. He has trained over 1,000 other therapists in the process of voice banking, has written and presented internationally on the subject, and regularly hosts free training sessions online. He also continues to personally help individuals living with ALS/MND who do not have access to a therapist or cannot voice bank by themselves record their voices each week.
Richard firmly believes people living with ALS/MND must be at the heart of decision making for new technological developments and focuses on bringing their lived experiences to everything he is involved in, such as Google's many projects focused on helping people with non-standard speech be better understood by technology. He is also an active member of the International Alliance's Innovation and Technology Advisory Council, which makes recommendations regarding technology and innovation strategies to benefit those living with and affected by ALS/MND globally.
"Richard is an international figurehead in the fight against ALS/MND," says Nick Goldup of the MND Association. "He literally gives thousands of people living with ALS/MND a voice."
Previous Winners
2021  Dr. Melinda Kavanaugh and Sarah Solomon
2020 John Costello
2019 Rachel Marsden
2018 Dr. Sara Feldman