What Is Advocacy?
Advocacy is the deliberate process of influencing those who make policy decisions.
In the health, disability and social care sector, advocacy aims to support or encourage an activity that helps people with ALS/MND and their caregivers secure access to health and supportive care to best meet their changing and progressing needs.
Advocacy and influencing at a national level is central to the mission of many ALS/MND associations around the world. Advocacy is a means through which ALS/MND associations ensure that people living with ALS/MND have access to the best possible care within their legal and health and supportive care system.
This resource is designed to help you and your association – whether you are just starting an advocacy program or whether you are looking to expand an existing one. It is also designed to give emerging ALS/MND associations tools they can use to begin engaging in advocacy at the local, regional, national and international level.
Types of Advocacy
A number of different types of advocacy exist. These are 3 main types of advocacy employed by ALS/MND associations and patient advocates around the world: Individual Advocacy, Systemic Advocacy, and Collaborative Advocacy.
Individual Advocacy
Individual advocacy focuses on changing the situation of one person – to protect his or her rights or to improve individual services.
There are two common forms of individual advocacy:
Informal advocacy is undertaken by individuals, their relatives, and friends.
Many people with ALS/MND and their families have engaged in valuable informal advocacy, but managing ALS/MND can leave little time for the extra effort involved in this process.
Voluntary or nonprofit community-based organisations that advocate for individuals.
Many ALS/MND associations engage in this type of advocacy. Associations may employ support staff that help individual people with ALS/MND and their families access care and support services locally as needs arise or change. This is an important means of advocacy as care provision systems are often very complex and difficult for individuals to navigate.
Advocacy also involves educating care providers about the needs of people with ALS/MND to promote access to timely and coordinated multidisciplinary care.
Systemic Advocacy
Systemic advocacy works to change the situations of a whole group of people who share a similar problem, or to change a service system. Systemic advocacy can benefit many people. It also strives to prevent problems before they occur.
Systemic advocacy encourages changes to the law and/or government and service provider policies and community attitudes.
ALS/MND associations may undertake systemic advocacy at the local (state, province, region, territory, etc) or national level within their countries.
Collaborative Advocacy
The fact that the number of people living with ALS/MND is relatively small makes the job of influencing harder – there is power in numbers!
For particular issues, ALS/MND associations may consider engaging in joint advocacy with other groups who have the same or similar needs. These organisations include:
Neurological groups
Neurodegenerative or neuromuscular disease groups
Disability groups
Chronic disease/Rare disease alliances
Palliative care associations
Carer/caregiver associations
What does advocacy do for people with ALS/MND?
Advocacy can:
Raise awareness and understanding of ALS/MND and the needs of people with ALS/MND, their families and carers
Promote research into ALS/MND
Promote positive change to structure and policy, which will be of benefit to people with ALS/MND
Help people with ALS/MND and their family to access more resources and better care
Help professionals involved in providing services to people with ALS/MND and their families gain access to resources and funding
Help people with ALS/MND and their families to access vital support services and make services accountable ensuring there is transparency in their actions and decisions
Help people with ALS/MND and their families have control over their situation
What are the requirements for systemic advocacy?
Because systemic advocacy works to cause change in service systems, policy or laws, it requires a long-term, sustained effort. Advocacy also requires:
knowledge of how systems, departments and services work, especially with regard to government and health and supportive care departments
an understanding of advocacy process and procedures
taking opportunities and creating them
a sense of urgency
doing more than what is routinely done
challenging the community
engaging with media
Advocacy above all requires that ALS/MND associations know and understand the basic functions of the government and how health, social and supportive care is structured in their country. These questions will be helpful to answer as you get started in advocacy:
How is a law made?
What are the branches of government, and what is each branch responsible for? Whom should you be advocating to?
Who is responsible for allocating resources and how are these decisions made?
What are the current government's policies related to care and support that impact people living with ALS/MND and their families?
How do people find their representatives and contact them?
The answers to these questions might change depending on whether you are working at a local or national level.
Common Areas of Advocacy
For Alliance member associations, past and current areas for advocacy might include:
Improved clinical care for people with ALS/MND within a given healthcare system

Access to multidisciplinary care
Access to durable medical equipment

Improved support services for people with ALS/MND and their families i.e

Access to aids and equipment
Home care
Disability and/or aged care support
Respite care

Financial support for people with ALS/MND and their families
ALS/MND research funding
Increased public awareness and understanding of ALS/MND through official recognition of the disease or related issues
Tips for Successful Advocacy
Have clear, realistic goals. If you can, be as specific as possible in your goals. Also consider developing short- and long-term goals and dividing big, general goals into achievable steps.
Be strategic and efficient. Try to talk to the right person at the right time to move your policy forward.
Develop a campaign or Call to Action to focus on the policy you seek to change
Try different tactics. Some possible tactics for contacting policymakers could include:

Arrange meetings with relevant politicians and government departments in their offices
Engage with the party in power as well as opposition
Invite politicians to visit your association or clinic
Write letters and make phone calls
Use social and traditional media to persuade politicians to champion your call to action
Attend town hall meetings or other public events to educate policymakers

Encourage grassroots advocates.

Identify "grassroots advocates" – people with ALS/MND who support your association and are willing to meet, write letters, email or make phone calls to their local members of Parliament using a script you provide
Provide a list of Ministers, Shadow Ministers, representatives or other politicians to support your grassroots advocates

Have facts and figures prepared. Find and know relevant statistics. If possible, it might be helpful to undertake surveys or research to produce more figures (for example, a figure for the average cost of living with ALS/MND for one year in your country, or a figure for the average life expectancy of someone with ALS/MND in your country). Present facts and figures in an organized, concise fashion, often through printed handouts or fact sheets.
Develop a media/communications plan. Think about how you will communicate your advocacy campaign and engage the public to help or support your advocacy goals, if applicable.
Share personal stories. The most persuasive argument is a personal story of someone with ALS/MND who needs help. Of course, an ALS/MND association should always get permission and support from the individual before sharing their story.
Advocacy by ALS/MND associations promotes recognition of the rights and needs of people with ALS/MND and ensures that they have a voice and that it will be heard.
Additional tools from the International Alliance of ALS/MND Associations: Rights of People with ALS/MND.
Advocacy Success Stories from Alliance Members
ALS Canada: Better financial support for family members caring for a loved one with ALS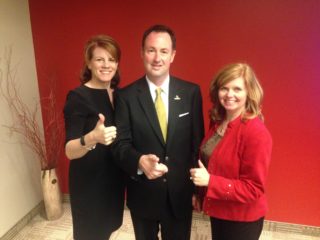 In Canada, an ALS diagnosis can cost a family an estimated $150,000 to $250,000 over the course of the disease, including the costs associated with losing income given that family members must often take time off work to provide care to their loved one.
To help relieve some of this financial burden, ALS Canada and ALS Societies across Canada advocated as part of a collation of health charities for the Government of Canada to extend the Compassionate Care Benefit (CCB) from six to 26 weeks. This benefit provides much needed financial assistance to Canadian families caring for a loved one with a terminal disease.
As of January 3, 2016, Canadian caregivers can now claim up to $13,624 over a 26-week period in benefits, a significant increase from the original entitlement of $3,144 over six weeks. The benefit can also now be taken within an expanded period of 52 weeks and can be shared between family members.
This imperative change is already making a substantial impact on Canadians who are at their most vulnerable financially and emotionally. Through this benefit, families living with ALS can now access a greater level of financial support to help address the debilitating physical effects of this neurodegenerative disease. ALS Canada and ALS Societies across Canada also continue to work with the Government of Canada to improve access to the CCB to ensure this benefit adequately supports caregivers of Canadians living with ALS with every progression of the disease.
MND Australia: 10 years of NDIS influencing - Contributing, collaborating and communicating to ensure early intervention and needs based supports for people living with MND
The idea of a National Disability Insurance Scheme (NDIS) was first introduced at the 2020 Summit held in Canberra in 2008. MND Australia immediately recognised the NDIS as a once in a lifetime opportunity to transform the lives of people living with motor neurone disease (MND).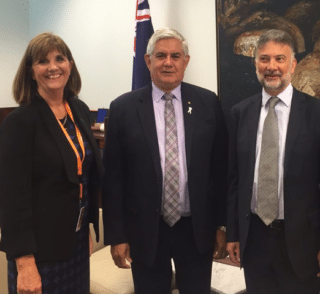 In 2008 the government established a Disability Care and Support Inquiry to be undertaken by the productivity commission.
Influencing government policy is a long term commitment requiring determination, flexibility and patience.
Over the last 10 years we have worked in partnership with the six state MND Associations with a clear focus to influence the establishment of a scheme that would ensure people living with MND receive the disability supports they need to maintain their independence, social inclusion and quality of life.
From the outset we have worked to contribute, collaborate and communicate to influence the establishment of a scheme that would:
Include a diagnosis of MND as one of the early intervention groups
Include all people with MND no matter their age or postcode
Ensure access to specialised planners who understand the needs of people with complex conditions such as MND
and would include an assessment process that would anticipate changing needs
MND Australia contributed to the initial productivity inquiry and contributed to relevant joint submissions and appeared at Productivity Commission hearings and government roundtables to ensure that the voice of people living with MND was loud and strong.
MND Australia welcomed the Productivity Commission report which recognised that the current disability support system should be totally reformed as it was "underfunded, unfair, fragmented, and inefficient, and gives people with a disability little choice and no certainty of access to appropriate supports."
Following the government decision to establish an NDIS we have continued to write many related submissions and developed position statements to ensure we continued to contribute to the design and development of the scheme.
Collaboration has been a key element of the success in influencing the introduction of the NDIS.
Disability organisations representing myriad disabilities and conditions have been relentless in their advocacy with many coming together to form alliances and collaborations. As a founding member of the Neurological Alliance Australia we have worked to develop joint position statements, and submissions to strengthen our collective advocacy.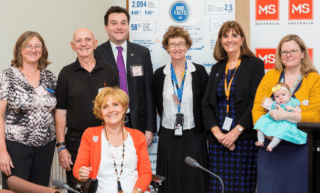 A special briefing held in 2017 at Parliament House provided the opportunity to highlight our joint position on the development of the NDIS and to highlight the need for improved pre-planning support, NDIS planning sessions that recognise the unique needs of people with a progressive neurodegenerative condition and the mandatory inclusion of Coordination of Support for his cohort.
Since the NDIS was established the MND associations have endeavoured to collaborate with National Disability Insurance Agency – NDIA – staff at the grassroots level as well as federally.
The NDIS started as a trial in July 2013 in sites in NSW and Victoria and the MND Associations in those States have been actively involved from the outset – advocating for individuals, educating local NDIA staff, working with existing multidisciplinary teams; and working to improve NDIA understanding of MND, within a model focused on capacity building.
The introduction of a new scheme of this magnitude is challenging, frustrating and confusing for everyone.
Learnings from the trial sites informed our work to develop a 'starter plan' – the first of its kind. The aim was to support planners to understand the complex and progressing nature of MND and to minimise the need for repeated plan reviews. This led to the development of the NDIA Practice Guide for MND which was the first disease specific practice guide to be developed and adopted by the NDIA.
Over the last 10 years we have communicated with relevant Ministers, Opposition Spokespeople and federal politicians. We have endeavored to provide solid evidence wherever we can to influence and to communicate the impact of the NDIS on people living with MND, and to highlight gaps and issues faced by individuals.
We have focused on communicating and sharing experiences, frustrations and highlights with each other through NDIS discussions at every CEO, board and national support service staff meetings. This has facilitated and supported changes to MND association service delivery and helped us respond to changing goal posts and funding models as the NDIS has rolled out nationally.
Importantly the state based associations have worked to communicate with their members, people living with MND, to ensure they have access to the information and support they need as they transition to the NDIS.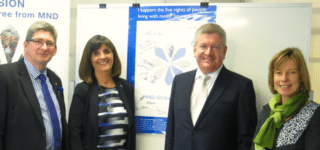 The MND community, people living with MND and their families and the specialist MND multidisciplinary clinics and services have also been key to influencing the development of the NDIS. A number of MND Week campaigns have focused on the NDIS, engaging the community in highlighting the need for the right care at the right time in the right place.
Sharing personal stories at Parliamentary events and meetings with politicians of all persuasions has been integral to informing the debate and the development of the scheme. And of course it is the personal stories that engage the media and help to highlight particular issues that people face in trying to get plans in place to meet their individual and reasonable and necessary support needs.
So are we there yet? MND was identified as an early intervention group and some NDIS participants living with MND have received plans that are having positive, life-changing impacts on their lives; many others however, struggle to receive plans that take their progressing and complex needs into account.
Unfortunately fairly early on it was evident that people living with MND diagnosed when aged 65 or older would not be eligible. Our focus has been to keep advocating strongly to include this cohort and to meanwhile influence the aged care sector to provide individualised needs based supports for older Australians with MND.
Our collective influencing must therefore continue to ensure access to needs based disability supports for all Australians with MND whether funded by the NDIS or the Aged Care sector. We will continue to work closely with the people living with MND and their families to provide individualised grassroots advocacy and individual case studies will continue to be gathered and provided to the NDIA and the to the Aged Care Minister to strengthen and support influencing nationally.